Creating canvas panels as an alternative to permanent murals painted directly on the walls...
We did a mural on the wall of my daughter's room back in our first house when my daughter was only a couple of years old and it is a memory we share of very pleasant times. She was only about three years old when we painted that mural... now that we've moved several times it occurred to me that we could just as easily paint a mural on a few canvas panels that could be hung on the wall. So I began working on canvas panel mural ideas for covering large walls. Here's how it was done, and some links for purchasing prints of the final products if you're interested....
Meet my daughter... she's the one who got me working on these panels after asking if we could paint a mural on the wall of our current house, however we're currently renting so I didn't want to paint directly on the walls.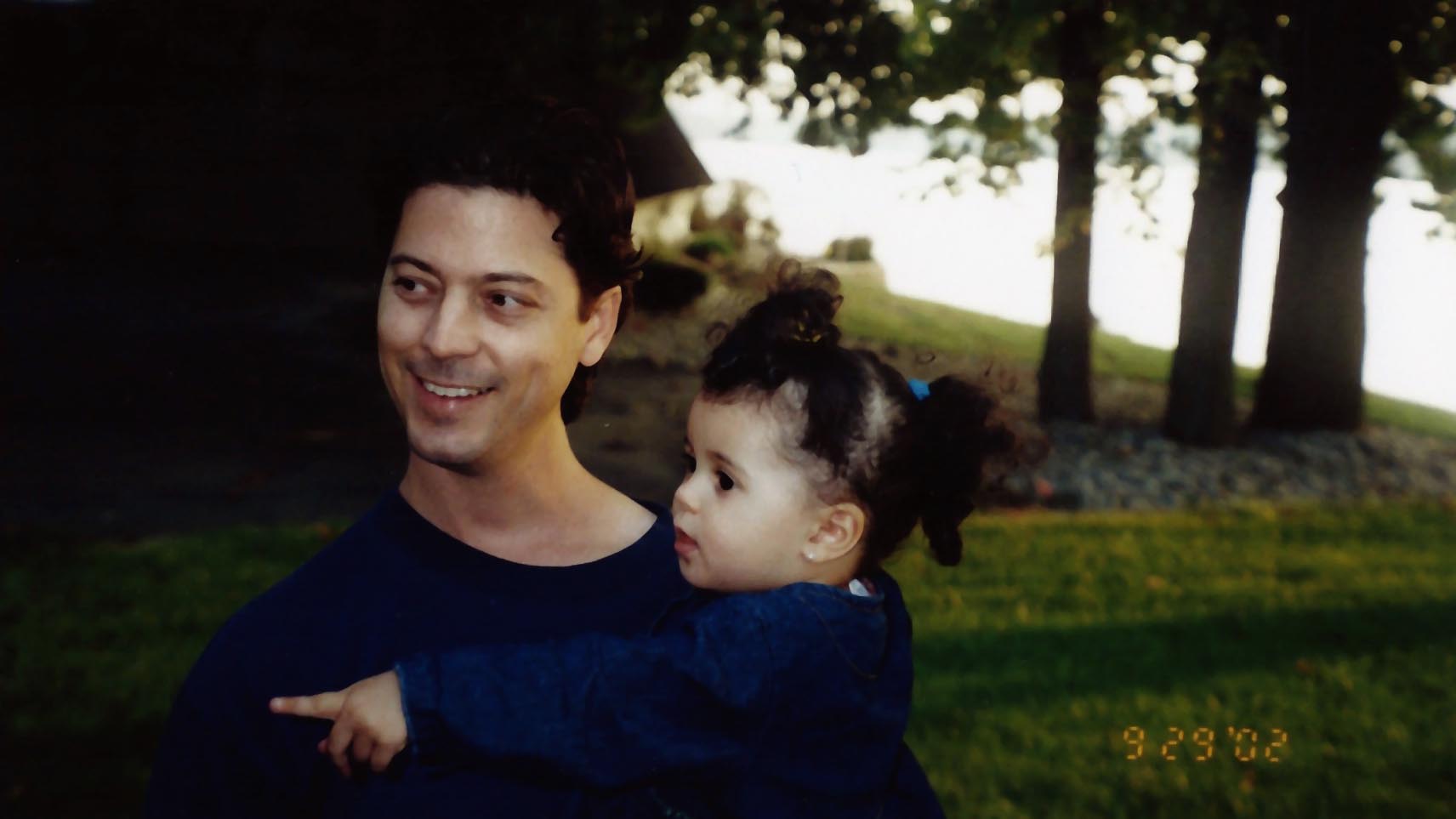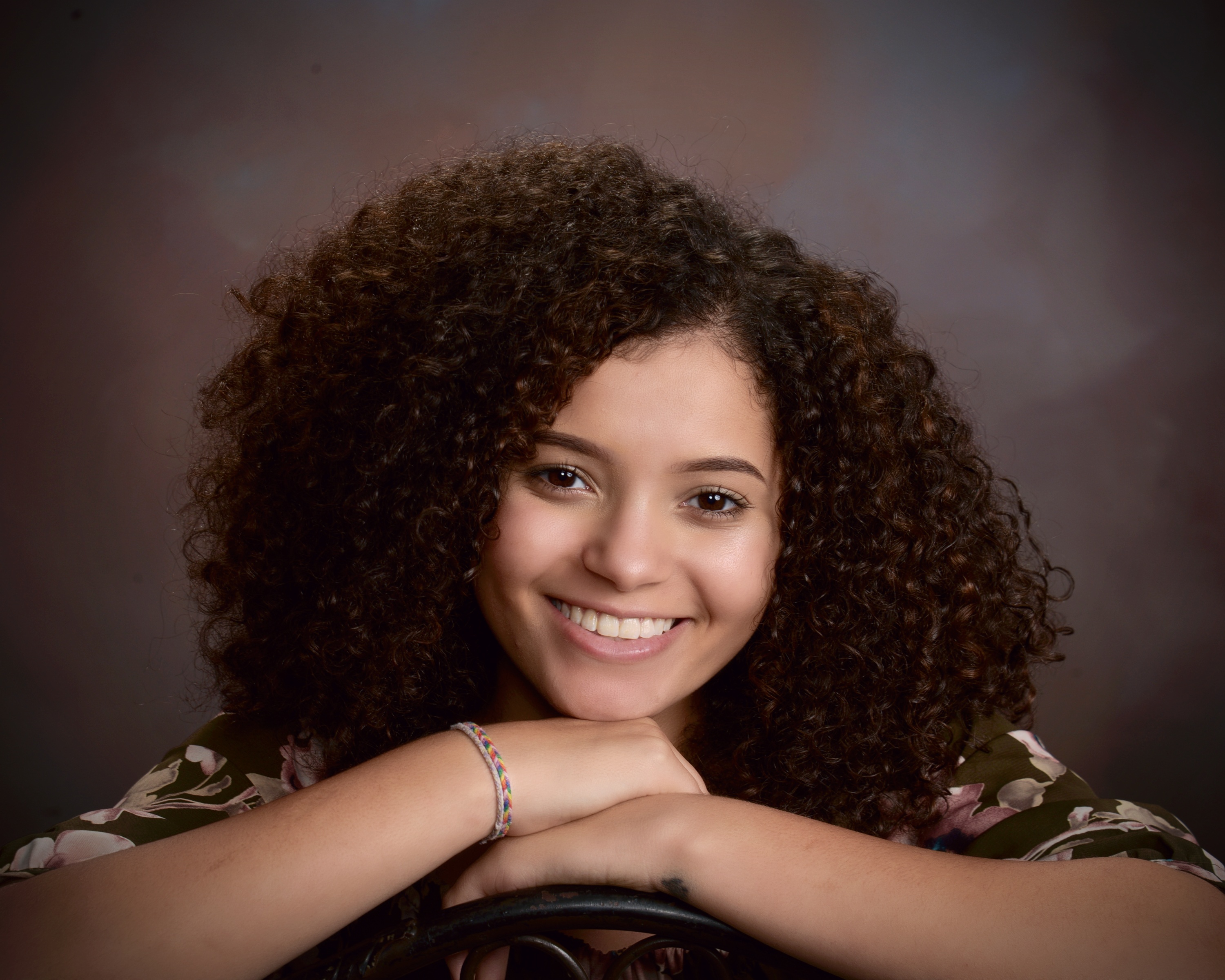 She's grown a little since we did that mural all those years ago. And to be completely honest life didn't allow me the freedom to create what I would have wanted to for her room while she was living at home. But the idea is still a great one and I hope my work can be used to create memories for other families of creating inspiring and creative places for your children to thrive.
If you do in fact order panels from my collection and install them in your house I would love to add your story to my collection! 
Shaun McNicholas
Eyes of Fire - 4ft by 6ft Canvas Panel - Acrylic
This was the first 4ft by 6ft canvas panel I created. Based on some doodle art I had been doing while sitting in meetings at work. I had been experimenting with the abstract shapes and organic textures created by the black lines. After adding color and some common positive imagery I combined the motifs of "The all seeing eye" ("a god of your understanding"), the Mandala a meditation drawing technique inspired by ancient cultures for inspiration, meditation, relaxation, and for me it's just plain fun and therapeutic, and fire for warmth and fuel. It's intended to inspire calm and creativity. I've had this image printed on a multitude of mediums, pillows, phone cases, corona masks, tapestries, tote bags, metal and canvas prints. Here's a collage of a few of the prints.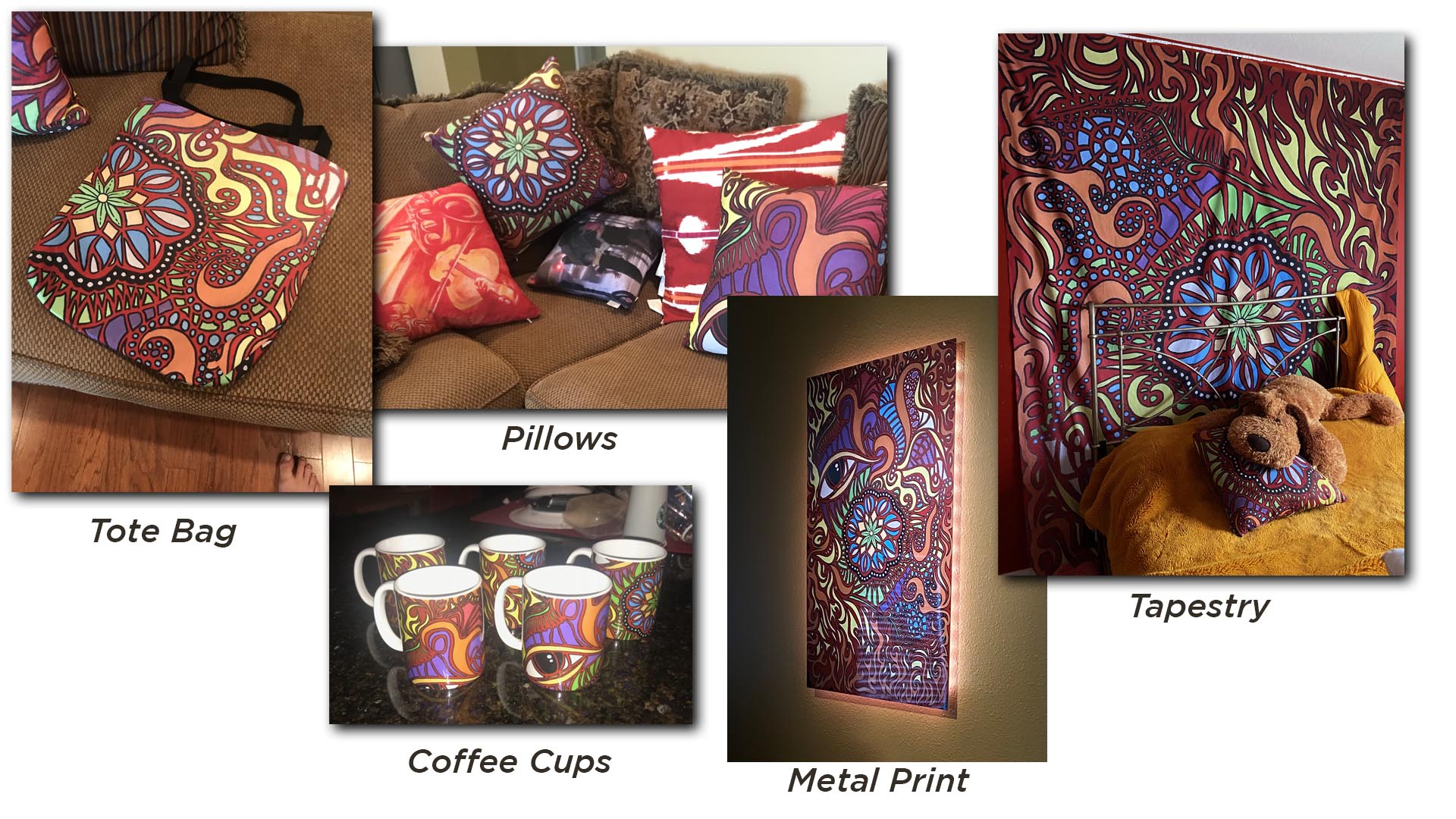 Check here for immediate delivery of signed prints from my on hand inventory. Or use my store front at Pixels.com for other available options.
Dragon Nest was based on a tattoo sketch that I've always liked. I surrounded the sketch with fire and planted her on a shore line protecting a nest of dragon eggs. The color scheme is meant to flow with the first panel and the motif is just a continuation of things we naturally associate with imagination, mystery, intrigue and wisdom.
Check here for immediate delivery of signed prints from my on hand inventory. Or use my store front at Pixels.com for other available options.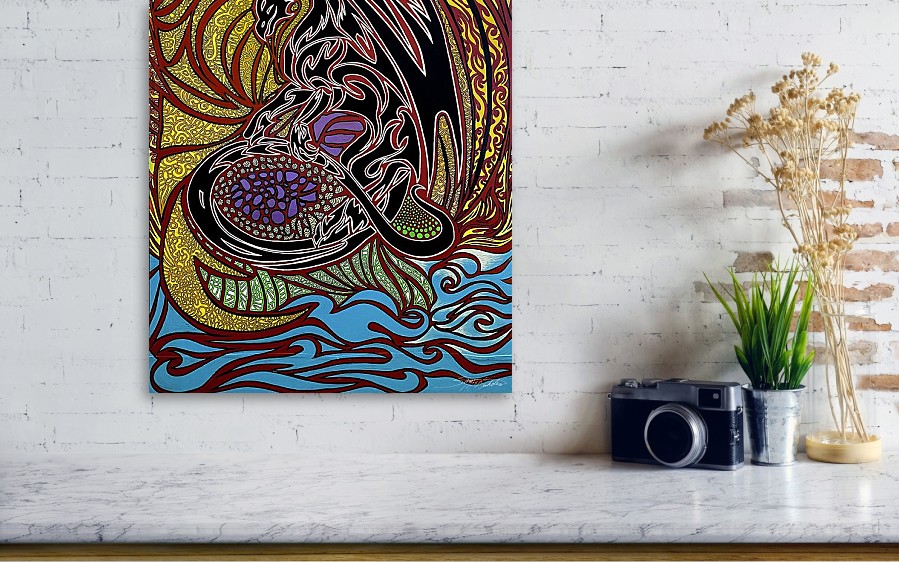 Hot Bonsai is my first full illustration or painting done 100% on an iPad pro digitally. Using the adobe tools and the Apple Pencil. I created this piece in the same way that I would have created a large scale painting by layering and combining tools and techniques to achieve the end result you see here. I tried to mimic the doodling style from the other two pieces while taking advantage of the effects capable in the digital medium. Layering and mixing different layers and techniques available digitally was similar to mixing paint and other materials and techniques in the real world. I was pleasantly surprised by the quality and resolution of the final piece.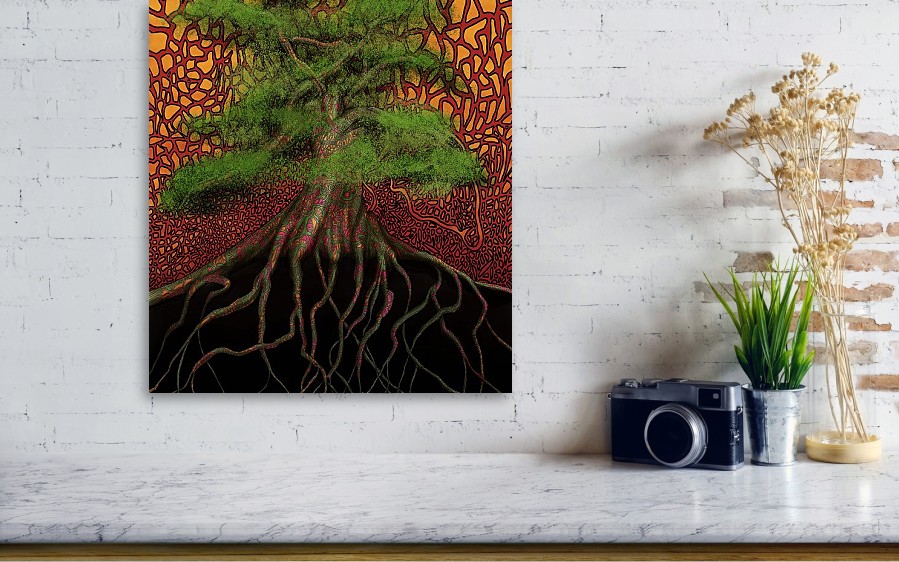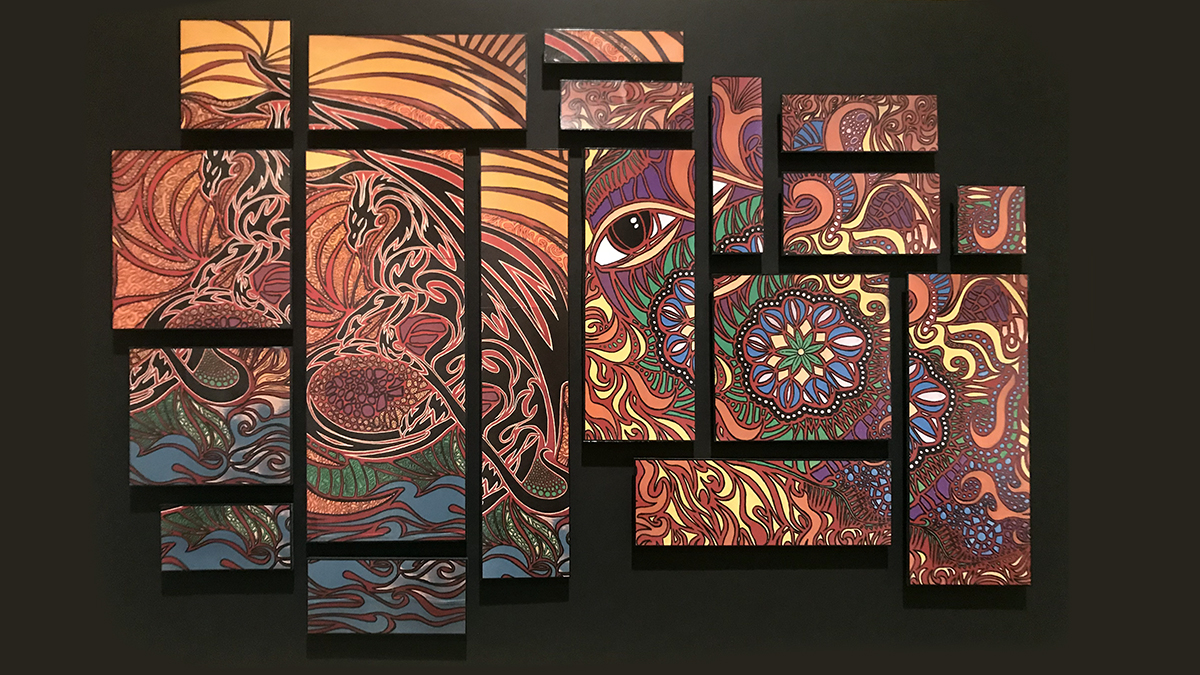 One of the creative things that I've been experimenting with is cutting these large panels into smaller pieces and then printing them on wood or metal as smaller cutout pieces and then assembling them as a collage of color and design. I really love the way these look and at scale this kind of installed collage can be modular and cover very large areas of wall space. Like the entrance to a large hotel or office. At scale this design could cover a 24 to 50 foot wall space or bigger. And add some nice lighting and the design could make for a wonderful architectural installation.